Education in Greenland
There has been compulsory school attendance in Greenland for more than one hundred years, and illiteracy is non-existent. The teaching language is Greenlandic, with Danish as the first foreign language.

School attendance is compulsory, free, and takes nine years. There are one private school in Nuuk. In 2003 a new school reform took place. It's called "Atuarfitsialak" (The good school).

Ilinniarfissuaq/The Greenland Teacher's College was founded in Nuuk in 1845 and is the oldest cultural institution in Greenland. It has produced generations of teachers and a great many of Greenland's intellectual and political elite.

Ilisimatusarfik/University of Greenland matriculated its first students in 1984. There are four faculties: the Faculty of Greenlandic (Greenlandic and general linguistics, literary history), the Faculty of Administration (economics and political science, administrative law), the Faculty of Cultural and Social Studies and the Faculty of Theology.

Senior grammar schools/high schools are located in Qaqortoq, Nuuk and Aasiaat. There are colleges in Sisimiut and Qaqortoq and a number of vocational schools on the west coast.

All other higher education programmes must be followed in Denmark or abroad.

See also: www.ankn.uaf.edu/IEW/edgreen.html


---
Primary schools and special schools in Greenland
During the last few generations, rapid development has sharpened focus on the area of education. The conditions of our country will always demand that we develop and utilize our human resources in the best possible manner. We can not afford to waste even a little of the human potential latent in our people.

Just as education is important for enabling a small population to prepare itself adequately, an active cultural life is vital for sharing the experience of community fellowship found in our great land, which in spite of its beauty still places great demands on the role we play.

The primary schools in Greenland are in many respects built up around the Scandinavian model. There are 9 years of compulsory schooling for everyone, taught in Greenlandic. The school system works toward advancing and developing the students' spiritual and physical abilities and emphasizes the development of independence in balance with respect for the student's personal and social responsibilities.

In connection with the primary schools there are a number of special schools where a Department for Pedagogic and Psychological Counseling (Siunnersuisarfik) provides an opportunity to observe, examine and treat children individually.


---
Atuarfitsialak
From
the traditional timetable
To
flexibility in planning
From
- one teacher,
- one class,
- one subject,
- one lesson,
- one class room
To
- team of teachers,
- larger family groups of students,
- lessons according to the projects
- workshop laboratories
instead of class rooms
It's therefore necessary to develop new methods concerning:

* Educational planning/Curriculum
* Assessment/Evaluation
* Continuous training of teachers




---
Open timetable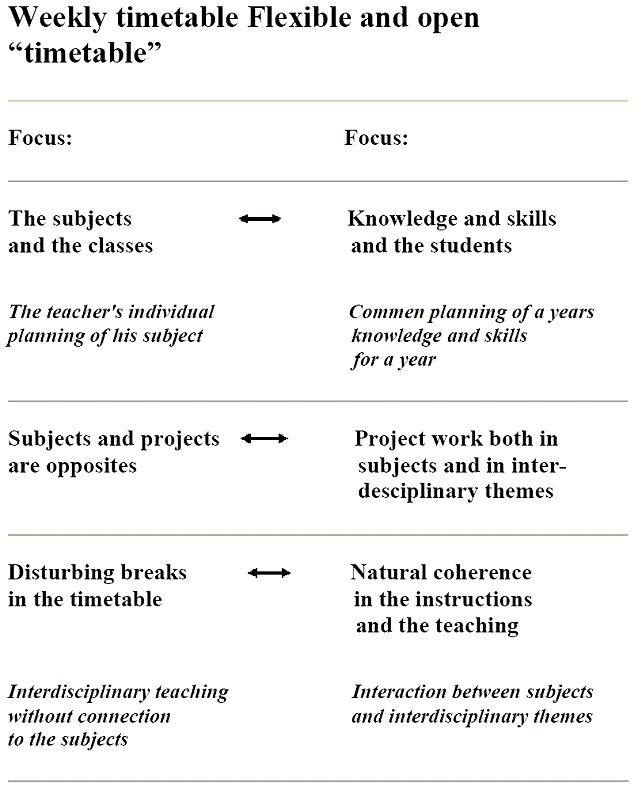 ---
Educational statistic
Link to statistik about pupils, teachers and total expenditure in primary schools